I love making creamy soups .You mix vegetables, colors, flavors, textures and you blend them together, add a pinch of spice and the herb that will match. You all know by now a soup starts with olive oil or butter, onions and garlic. As for the cream it can be a liquid cream, coconut milk or just plain. Regarding the broth, I sometimes content myself with just water to cover or if I really need a kick, I will go for chicken bouillon or vegetable bouillon. Lately I am using a powdered vegetable bouillon, I know it is not natural but!! If you have been through the blast of August 4 in Beirut and inhaled weird air, you must say to yourself relax, this won't kill you. But I still look after my health! I am just more practical and less fussy.
So here is the recipe, I will let you explore it. As for the pumpkin, I always cut it into wedges, place them on a tray, sprinkle the banana shaped pumpkin with coarse salt, a drizzle of olive oil and a pinch of ground pepper. Grill them in a hot oven around 200C and grill them until they caramelize on the edges and soften. The house will smell so good. Then with a big smooth, I just remove the flesh, just to tell you that `I don't peel the pumpkin before grilling it, scared for my fingers and my time. Scooping it is much easier.
Note that I love collecting pumpkins and just display them here and there in the house. Lately loving the albino variety. So magical!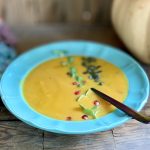 Print Recipe
Easy pumpkin soup
Bright color and great flavor. Perfect match to cuddly socks and a series on `netflix.
Ingredients
1

small

pumpkin

cut into banana shaped wedges

2

carrots

cut into rings

1

onion

2

cm

fresh ginger

1

medium

tomato

2

cloves

garlic

2

tbsp

olive oil

6

tbsp

liquid cream

2

tbsp

powdered vegetable bouillon

or 1 cube

ground pepper and salt

pumpkin seeds, fresh coriander to garnish
Instructions
Preheat oven to 350ºF/180ºC/gas 4. Generously spray two 12-cup muffin pans with cooking spray. Sprinkle the bottom of each cavity with a couple pinches of sugar. Set aside.

Add almonds and rosemary to your KitchenAid® K400 Blender. Close lid, select "Ice Crush" setting, and let blender run through the setting. Scrape down the sides of the blender with a rubber spatula, then replace lid and blend on speed 5 for 10 seconds. Scrape sides again and blend on speed 5 for a final 15-20 seconds, or until almonds and rosemary are finely ground.

Pour the almond mixture from blender in a small mixing bowl. Add all-purpose flour, baking powder, baking soda, and salt. Whisk to combine, and set aside.

Place ricotta cheese, olive oil, orange zest and sugar into the blender. Pulse 5 times to incorporate. Remove the lid cap and add eggs, one at a time, pulsing once after each addition. Replace lid cap.

Remove lid, use spatula to scrape down the sides of the bender, then add half of flour mixture to blender and pulse 2 times. Scrape down sides of blender again, then add remaining flour mixture and blend on speed 3 for 15 seconds.

Assemble the cakes. Use a sharp knife to cut off the ends of four of the citrus fruits. Slice the citrus into very thin rounds, no thicker than 1/8". Remove any seeds from the rounds and place one small citrus round in the bottom of each sugared muffin cavity. (See Chef's Notes for choosing/placing citrus.)

Slowly fill each muffin cavity to a little more than halfway full. (A pastry spatula is helpful in portioning the batter from the blender and into the cavities.) Bake cakes for 20-25 minutes, rotating the pans halfway through baking. Cakes are done when a toothpick inserted into the cakes comes out clean.
Notes
Kid-Friendly Adaptation: Cook the chicken in broth instead of buffalo sauce. Shred and drain off excess liquid. Put some of the chicken aside for the kiddos (plain, no sauce) and toss the remaining chicken with the buffalo sauce before you broil it. 
Did you make this recipe?
Please let me know how it turned out for you! Leave a comment below and tag @tinysalt on Instagram and hashtag it #tinysalt.