Rich chocolate loaf cake , perfect with a cup of tea.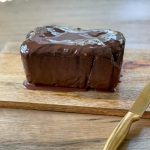 Print Recipe
Rich Chocolate Cake
Ingredients
200

g

Eggs

measured without the shell

200

g

soft brown sugar

200

g

butter

170

g

Flour

sifted

60

g

cocoa

1

Tbsp

Baking powder

1/2

Tsp

Baking soda

1/2

tsp

salt

100

g

Dark chocolate

Grossly cut

1

shot

espresso

optional
Chocolate ganache
60

g

dark chocolate

150

g

milk chocolate

200

g

liquid cream
Instructions
In a mixing bowl, cream butter and sugar on medium speed for 10 minutes

Incorporate one egg at a time, beat well between each addition, you might want to add only 1 teaspoon of flour to the wet mix.

Fold in the sifted flour, cocoa, baking soda, baking powder and salt. Do not over beat, just incorporate gently until full absorption

Add the chocolate finely chunked to the batter, give it a stir.

Preheat the oven at 175C. Prepare a loaf tin, butter and cover with a parchment paper. pour the batter oven the tin and bake for 35 minutes or until you insert a stick and it comes out perfectly dry. Remove cake for the oven, let it rest 10 minutes in the tin then unmold on a rack until totatlly cool.
Prepare the ganache
Place the chocolate drops in a bowl.

Heat over low heat the liquid cream. Remove it immediately before the first ebullition

Pour the hot cream over the chocolate and stir, the chocolate should melt totally.
Assemble
Place the cake on the top of a rack and cover it with the ganache. Let it cool down for about 10 minutes then pour over the cake the rest of the ganache. Double glaze!